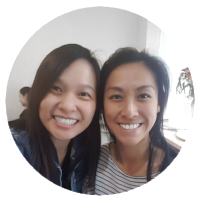 Two best friends, who fell in love with South Korea and Korean beauty after setting foot in Seoul for the first time in 2012. Visiting Seoul for the first time totally changed our view on skin care and beauty standards. The Korean Industry was a whole new world and a complete different game. We were just amazed by the amount of different brands, products, packaging, innovative ingredients Korean skin care had to offer. Everywhere we looked, we saw Korean women with perfect dewy, porcelain skin. We were determined to become prettier and improve our skin.
After Carroll has been living in Seoul for almost 6 years, we have finally decided to launch The Skin Nutrition Bar (TSNB), as we believe that not only your body needs nutrition from the inside, but also from the outside! At TSNB we select and test all our products personally and carefully before we even consider including them in our line. We curate the highest quality products by researching, testing and trying out all the products personally. Each product has been selected carefully and only a small percentage of the products we test will be approved. Therefore, you can trust that the selected products work and will show you effective results.
Our goal is to deliver a whole new level of confidence through your healthy glowing skin, by not only looking healthy and beautiful but also feeling happy and beautiful inside-out. By providing you with the best and accurate information, innovations trends that Korea has to offer and of course delivering the best Korean products within your reach.
XoXo,
Carroll & Bo